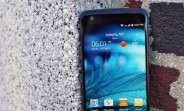 Now that the IFA doors are opened to the public, our job there is pretty much over. If you can't drop by and see all the exciting gadgetry on display in Berlin yourself, it's ok. Here are the few announcements you shouldn't miss.
Unlike previous years, Samsung didn't wait for the Berlin venue to out its new Note phablet, which definitely left a dent in the final lineup. This, however, cleared the stage for Sony, which delivered a whole new Z5 family and definitely stole the spotlight. There were, however, at least a few interesting offers from other OEMs that we didn't overlook, so without further ado, here are the highlights of the show.
Best phone
Sony Xperia Z5 Premium
Like we said, Sony definitely takes the cake this year. Its new Z5 lineup generated a huge amount of interest, as is evident by our news and review sections, as well as the top ten chart which is now dominated by the Xperia Z5 Premium and its world first 4K display.
Xperia Z5 Premium
A 4K display on a phone might turn out to be more of a gimmick than a truly-useful feature, but it is undoubtedly a step forward. That, along with the slightly bigger display size and the fact that the Z5 Premium offers just about everything the Z5 does and add some was more than enough for the 5.5-inch unit to outshine both the regular Z5 and the Z5 Compact. If we have to point out a winner, it would probably by the Z5 Premium, although there is another worthy contender that needs to be mentioned.
Huawei Mate S
That would be the Mate S. It is a true flagship offer and an emanation of Huawei's recent accent to high-end quality phones. Its metal exterior is incredibly stylish and just looks premium. This feeling is only furthered by the sharp 5.5-inch AMOLED display that seem to be seamlessly molded into the chassis. Huawei has also went out of its way to fit the Mate S with as much tech as possible and the phone now has an all-new smart fingerprint sensor, more powerful that the one on the Mate7 and even Force Touch.
Huawei Mate S
It is definitely hard to point out the start of the show between the two, so we will just leave it up to you to decide.
Best smartwatch
Everybody seems to be making a smartwatch these days and we definitely can't blame them for trying. The odd new breed of wearable tech might still feel like more of a gimmick than a must-have accessory, but the figures don't lie and the tiny devices have quickly turned into a lucrative niche.
Huawei Watch
This being said, it was not surprising that wearables popped out all over the Berlin venue. But if quality is what you are after then you undoubtedly need to look into the Huawei Watch. And before you say it isn't new at all and was announced way back at MWC in March, well, technically that is true, but the gadget did finally go up for presale during IFA, so it counts.
There is one major definitive feature about the Huawei Watch that simply seems to give it an edge compared to other Android Wear devices – it was designed as a proper watch first and then a smart gadget and that approach has really paid off. If you like a smart, luxurious assistant that you won't have to substitute for the real thing when putting on a suit, then the Huawei Watch is probably your best bet. It also helps that is currently seems to utilize the most superior hardware in the Android Wear realm.
Huawei Watch
Moto 360(2nd gen)
But, there is also another smartwatch that we can't help but mention – the Moto 360 (2nd gen). It is arguably the successor to the watch that rekindled the wearable concept and gave it a new twist – a round form factor. And before you quote us on that in the comments, we are quite aware of the "flat tire" display form factor, which just happens to persist in the new Moto 360 as well. Some might not mind it or even find it appealing as a design feature, but it does seem to take away some of the appeal of the wearable. That is why we are naming it a close second, although we must say it was a tough call.
Moto 360 (2nd gen)
Best tablet
Lenovo Yoga Tab 3 Pro
Yet another tough choice, but for a slightly different reason. It all seems to come down to what your idea of a tablet and its purpose is (don't worry, we are still not completely sure ourselves). If you think of it like a portable entertainment center, then the…
Source: Lovely Mobile News