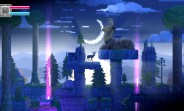 These are some of the best apps and games that came out this week.
Android Wear
iOS finally gets Android Wear support with the release of the Android Wear app on the Play Store. The app works with any iOS device running iOS 8.2 and above, although it is naturally optimized to work with iPhones. The app will allow you to pair any Android Wear smartwatch with your iPhone over Bluetooth. The app will then push all phone notifications to the watch as well as show Google Now cards. There is no support for apps at the moment but the app does allow you to download and install select watch faces. If you're looking for full-fledged Android Wear experience, you won't find it here but considering it is working with a different platform altogether the Android Wear experience with iOS is pretty decent and usable as long as you just need to see your notifications on your wrist.
Price: Free
Download: iOS
Google Street View
Google's new Street View app lets you drop down to various locations around the world and watch 360 degree panoramas shot by the Google Street View car or by people shooting 3D panoramas from their phone. The app shows you various locations that you can click on and view immediately. If your device supports a gyroscope you can just move the device around to look around instead of swiping around on the screen. You can also shoot 3D panoramas from the app and upload to your Google account, which could then be visible to other people. You can also connect to a dedicated 360 degree camera, such as the Ricoh Theta S to capture better 360 degree panoramas.
Price: Free
Download: iOS • Android
Next Keyboard
Next Keyboard is a great new keyboard for iPhone. The app has next word predictions that learns from you and automatically suggests relevant words as you type along with autocorrect. If you want to move your cursor around, just swipe left or right on the space button instead of using the terrible iOS text selection tool. There are also over 1400 emoji to choose from along with emoji suggestion as you type and stickers. You can also choose from multiple themes for the keyboard.
Price: $3.99
Download: iOS
Skype
Skype received major update on both iOS and Android. The iPhone version gets a new UI, simpler navigation, more powerful search to find conversations, contacts, and groups, and easier switching between call and chat screens. The iPad version also gets that along with location sharing, new large animated emoticons, starting groups and chats, interacting with notifications, and sharing and receiving photos more easily. The Android version of the app gets Material Design update with a floating action button, enhanced search, and improved messaging functionality.
Price: Free
Download: iOS • Android
Power Ping Pong
It's like someone combined table tennis with Fruit Ninja. You simply swipe on the screen to play. There's local as well as online multiplayer. What's not to like?
Price: $4.99
Download: iOS • Android
Unkilled
From the makers of Shadowgun and Dead Trigger comes yet another first person dudebro zombie shooter. If you like shooting at relentless wave after wave of zombies with some attractive graphics thrown in on the side, then Unkilled is just for you.
Price: Free
Download: iOS • Android
The Deer God
The Deer God is a 3D side-scrolling platforming game where you play as, well, a deer. You run around finishing quests, finding items and power ups to level up your antlers. There are secrets to find and puzzles to solve and bosses to battle. The game has a 3D pixel art design that looks great with a soundtrack to match. The game is currently on sale and can be had for $6.99.
Price: $9.99
Download: iOS • Android
I am Bread
I am Bread is. umm. a bread simulator, so to speak. From the creators of Surgeon Simulator, I am Bread is yet another wacky game that you mostly play for the lulz and not because it is a particularly good game. The objective here is to guide the bread on its journey to become a toast by navigating it across various surfaces and objects while not losing its edibility. And that's pretty much it.
Price: $4.99
Download:…
Source: Lovely Mobile News