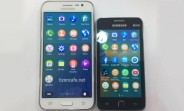 The Galaxy Z3 is now well on its way to user markets, as predicted and units are apparently already out in the wild. We caught a first glimpse of the device in a few life photos, but today brings us another, more substantial leak.
This time the Z3 is pictured right next to its sibling, the Z1, which allows for a pretty accurate size comparison. Actually, as is evident by the shots and the previously leaked specs sheet, which features a 5.0-inch display, mid-range chipset and 1.5GB of RAM, there is nothing really that special about the unit itself and normally it would simply go by mostly unnoticed. But, the Z3 has one major definitive feature which draws attention – it is powered by Tizen. This is only the second device that Samsung equips with its Tizen OS.
Prior to the Galaxy Z1, the said platform was only reserved for the OEM's wearables, like the Gear S2 that was unveiled a few days ago at IFA. The tiny Z1 was a bold new ambassador for the Korean giant's believe that Tizen can in fact be a full-features smartphone OS, but it could only go so far in showcasing the experience with severely handicapped specs, like a 4.0-ich 400 x 800 pixels screen, a Spreadtrum SC7727S SoC and 768MB of RAM.
Now, naturally, all eyes are on the Z3 and needless to say, expectations are high to see how far Tizen has come in its development and weather it can scale and work properly with more horse power. The Z3 was expected to be unveiled at the Tizen Developer Summit on July 30-31 at Bengaluru, India with shipments set to begin in the second half of the ongoing year. The initial launch will cover India, Bangladesh, and Nepal, which leads us to believe that Samsung's strategy for the Z3 might be an aggressive price policy to make it a good deal in developing markets and perhaps even endeavor to steal away some market shares from Android One.
As for the rest of the unit's specs, the aforementioned 5.0-ich display is said to be of the Super AMOLED variety, it typical Samsung fashion and have a resolution of 1280×720 pixels. Under the hood will be a quad-core chip, clocked at 1.3 GHz, probably a Spreadtrum SC7730S, but there have been rumors of a Snapdragon 410 as well. The camera setup consists of an 8MP primary shooter and a 5MP front-facing one. Other notable feature are the two SIM slots and a 2600 mAh battery.
Source |…
Source: Lovely Mobile News